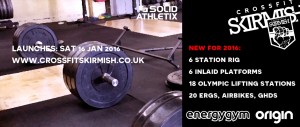 LAUNCH DAY – SATURDAY 16TH JANUARY
Our launch of the new Box is on Saturday 16th January at 9am.  All WODs are free to members and non-members. We kick off at 9am with our Sponsors Origin Fitness and St Andrew Boat Club with some photos and thanks. Thereafter we have WODs to watch or take part in.  Please book in advance to ensure a space:  Book your spot!
9am: Photos and Competition WOD.  We will be doing a competition WOD with friends at St Andrew Boat Club so will be roping you into the team too – they may have great rowing technique but we can catch them on other disciplines!  Just book into the WOD as usual to take part.
10am: Rowing Technique.  This will be a rowing basics WOD held by Iain Wilson from SABC.  He is Scottish Rowing's rower of the year and a Masters World Champion too.  Iain is a master at optimising power and distance so book in for this one now.
11am:   Olympic Lifting Taster.
12pm:  Crossfit Taster WOD.  
2015 prices: anyone who joins online before close of play (10pm) on Monday 18th January 2016 will be able to buy at 2015 prices.