Callum's Blog #3 – August 2015 "The miracle of self-discipline"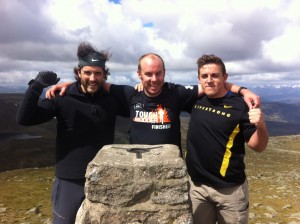 (From left: Callum Watt, Stuart Glasgow, Euan Watt)
In this blog I wish to share with you the benefits of self-discipline. This encompasses organisational skills, developing a solid routine, and forming good habits.
This month I will tell you the story of an experiment I conducted this summer with one of my good friends Stuart Glasgow (nicknamed Anchor). Anchor is one of my Munro walking buddies and works in Edinburgh as a taxi driver.
In June we climbed 5 Munro summits in the Lochnagar mountain range together, taking on a gruelling 29k circuit near Ballater. During the hiking we discussed his current lifestyle, and he admitted he had formed some unhealthy habits. As a cabbie, he is sitting down a lot of the working day. He had tight hamstrings, poor posture and a sore upper back. He also admitted he was becoming addicted to cans of coca cola (up to 5 per day), drinking 4 large cups of coffee per day, and at times gorging on snickers bars. He bought a pack of 4 snickers bars in the pound shop, and guzzled them all one afternoon in the taxi.
Anchor has within him the ability to be disciplined. In the past he ran the Edinburgh marathon which is a huge success!  He conquered 82 Munros increasing to 87 after the Lochnagar circuit. He also completed the Tough Mudder race in 2014. Despite these great achievements, the lure of convenience food, caffeine, and sugar was becoming a very negative aspect of his life. He felt tired and sluggish at work.
We decided on a plan for me to help him with his objectives: to increase his energy levels, lose some body weight, increase his fitness levels and mobility, and to break into the 100 Munro club. To have the most effective impact, I moved in with him for 6 weeks in June into the spare room at his flat. My house in Penicuik is up for sale, so it was a win-win situation. Temporary digs for me, and a live-in personal fitness and lifestyle coach for him.
The first task was to go to the shops and buy healthy and nutritious food. Our shopping list included: apples, almonds, avocados, bananas, carrots, chicken, cucumber, eggs, gluten-free ciabatas/pitas, milk, oatcakes, olives, peppers, porridge, rice, steak, strawberries, sweet potatoes, tomatoes, tuna fish, weetabix. This was a very colourful shopping trolley, with a blend of carbohydrate for energy levels, protein for growth and repair, and essential fats, including all the necessary vitamins, minerals and nutrients.
Our second task was to head out for the first of many bike rides. Cycling outdoors is one of my favourite forms of exercise. Cycling is excellent for your cardiovascular fitness, fun, strengthens your legs, you battle the elements (Edinburgh providing plenty of wind resistance!), and whilst the up-hill sections are challenging and at times painful, blasting you into the anaerobic energy system threshold, the down-hills are fast, fabulous and thrilling. Cheap thrills are the best! We started with a 40 minutes 'time-trial', and then as the weeks developed we cycled for over 90 minutes per ride, travelling up to 20 miles per evening taking us north to: Cramond, Dalmeny estate, South Queensferry and back. A brilliant incline called 'The Widowmaker' is a terrific quad burning 'heart attack hill' ascent!
On our return, we set about the task of food preparation. Whilst our evening meal of chicken and sweet potatoes was cooking, we divided up the tasks for preparing our food for the following day to take to work. Anchor chopped up a salad/veg box including: raw carrots, raw peppers, cucumber, tomatoes, and olives. I prepared the tuna-fish ciabattas, and chicken + avocado pitas. This covered our lunchtime food. For snacks we decanted almonds into a Tupperware box, a packed of oatcakes, and an apple. Teamwork is a key ingredient to success.
For further team-building and chilling, during dinner we watch the new series of True Detective on Sky Atlantic. It's a good show, but in my opinion not as exciting as season 1 and sorely missed the Woody Harrelson and Matthew McConaughey double act. Then we moved onto a box-set and started watching American series Banshee. Great times!
For the first few weeks I set my alarm earlier so I could eat breakfast at the same time. We alternated between weetabix with a banana on day 1, and porridge with strawberries on day 2. A breakfast enriched with complex and simple carbohydrates for sustained release energy. The high level of fibre is also good for the bowels.
I set Anchor a challenge to increase his upper body strength by doing daily press ups. His starting point was 20 press ups, and I challenged him to increase this by 10 per day. It took him 10 days to hit the 100 mark (in 10 sets of 10 press ups).
Within a few days Anchor's energy levels had improved. He no longer craved coca cola. He was getting the natural sweetness from the carrots and sweet potatoes. Within a few weeks his waist line had reduced several inches and he dropped 5 pounds in body weight. His morale had increased and he was delighted with the quick results. He still enjoys a cup of coffee or 2 each day, but with only a level tea-spoonful of coffee.
He was prolific on the Munro climbing front taking on the imperious Aonach Eagach ridge in Glencoe with our friend Keith. Then in mid-July our Munro team headed to Aviemore and tackled a monstrous day in the Cairngorm range conquering 4 summits: Ben Macdui, Derry Cairngorm, Beinn Mhaidhoin, and Cairngorm. After burning 5000+ calories on the 8 hour mountain marathon, our group went for a celebratory curry and a few beers. When you are eating cleanly and healthy 5 or 6 days a week, a curry and a beer tastes so much tastier!
I am proud of my friend Anchor. His discipline has been tremendous, and I have enjoyed watching him transform his routine and habits. He is leaner, fitter, happier, and last weekend he completed another 2 Munros taking him to 101, smashing into the 100 Munro club. Climbing 19 Munro summits in an action packed 6 weeks is a massive achievement. A prolific phase of mountain domination, which reminded me of my own Munro climbing journey! I am confident he is on the path now to greater Munro feats, and the grand total of 282 Munros is now looking achievable with his vastly improved fitness levels. I look forward to helping him along the way by re-climbing many of my favourite mountains. He is now faster than me on the bikes on our evening cycles. Although on the steep, painful inclines, I am still the man to beat.  You could say my 'padawan' Anchor did a "McConaughey"! This is an analogy of when someone makes a great comeback and re-energises their life or career like the American actor.
Stuart aka the Anchor had this to say "Before I started the regime with Callum my energy levels were like a yo-yo. Low on energy and feeling wiped out I'd grab a quick sugar or caffeine fix to temporarily boost my reserves, only to crash heavily a few hours later. Changing my diet completely has been a massive help – my energy levels and moods are now more constant (in a good way!). I enjoy the food I eat, and on rare occasions when I feel hungry Callum has recommended either an extra apple, banana or more oatcakes and this has filled the hole. I'm enjoying feeling healthier and my fitness has definitely improved too.
Going forward I think the key to keeping things up will be planning – buying and preparing good food in advance to avoid using convenience foods (Gregg's the bakers in particular must be close to issuing profit warnings!). Massive thank you to Callum who has been a great coach and influence and steered me in the right direction!".
The moral of the story is that with a little coaching and encouraging, you can change your life with help from a friend. The miracle of self-discipline and organisational skills can put you on a very positive path to well-being. Beware the dark-side however. Refined sugary convenience foods, and procrastinating on your exercise regime, are dangerous temptations! Use your Jedi skills wisely and may the force be with you….
Obi Cal Kenobi (Callum Watt)
Health, fitness and well-being Jedi Knight and Energy Gym Manager