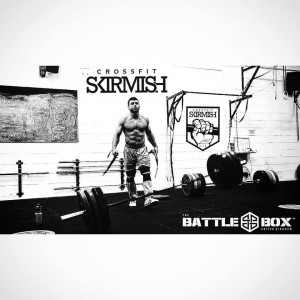 We are offering a free taster night at Skirmish's Olympic Lifting & Barbell Club – join us this Wednesday, 11th November at 7.30pm.  Click here to book: Book now
This taster is open to everyone – the complete beginner or experienced weightllifters, boys and girls – Yana – front squat.  This taster is hosted by Sasha Voronov, who not only runs our CrossFit box but is a qualified British Weight Lifting coach.  Sasha backs his qualifications with hands on experience, working with Dmitry Klokov in weightlifting seminars and ranking high in the European CrossFit Games (no. 10).    Sasha in action.
For those of you who don't want to CrossFit – don't worry.  The Skirmish Olympic Lifting Club is NOT about CrossFit, it is about learning safe & efficient weight lifting technique and developing you as an individual.
Joining our Club has so many advantages:
You work harder as part of a Club than just independently in a gym
You get great coaching including additional seminars on technique
You will achieve PBs faster, competing with other members
You will benefit from being with other club members who will encourage and support you every step of the way.
Joining a club is cheaper than 121 personal training
This taster gives you a great opportunity to meet our team and appreciate the advantages of joining the Skirmish Olympic Lifting & Barbell Club – book now as we only have 8 places available:  Book now